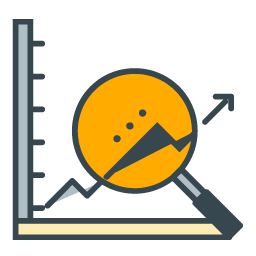 If we built you correctly from the beginning, if we overhauled your operation along the way, or if you just did a really great job of building your business in the first place, then you're set up to properly scale.  If not, we may have some prerequisite work to do first, but regardless, scaling is possible.
Scaling
What is scaling?  It is the growth that comes in chunks. It's going beyond selling 1000 products to 1000 people and figuring out how to sell 10 products to 100,000 people.
When you start your business, growth is slow and comes in little pieces – your first sale, your first resale, your second sale, and so on. After you gut it out for a handful of years and outlast your less-dedicated competitors, growth speeds up a bit.
This is where you get your first referral, your first hiring boom, and your first real marketing push.  What started out as one customer at a time now becomes five and ten customers at a time.
Growth continues for a while and, soon, those fives and tens become twenties and fifities.  Now you need to grow fast, but you can't fall apart in the process.  This is where we lean on a foundation of automation and analytics.
You begin to operate at a whole new level. If we made bricks during Creation, and then built buildings during Operation, now it's time to develop communities in Escalation.
Automation
Automation of key marketing operations allows you to speed up and supercharge the growth process.  
Where you used to collect customer data one at a time at the register, now you collect it by the dozens in the online shopping cart.
Where you once networked one business card and handshake at a time, you can now connect with thousands of prospects through social media.
Where your customer list used to live in your memory or on a list, it now lives in your CRM software which is connected to your email system, your sales management system, your chat system, and your analytics.
From your ads to your postings to your blogs to your store itself, automation is the key to scalable growth.
By automating, you allow your team to effectively serve a worldwide customer base at a pace you've only dreamt of.
Sounds cool, huh? Why not just complete that little form there and we'll tell you more. C'mon, you know you want to.
Work With Us
If you think you might like to work with us to start, grow, or scale your company, just fill out the form to the left.
Don't worry, all data is kept strictly confidential and will not be shared with anyone outside of our company for any reason.
Once we receive your information, we will make contact with you within 1-3 business days.
Two Creative Digital Marketing
935 Deis Dr., Fairfield, OH 45014
(513) 258-2850
www.twocreativedigital.com