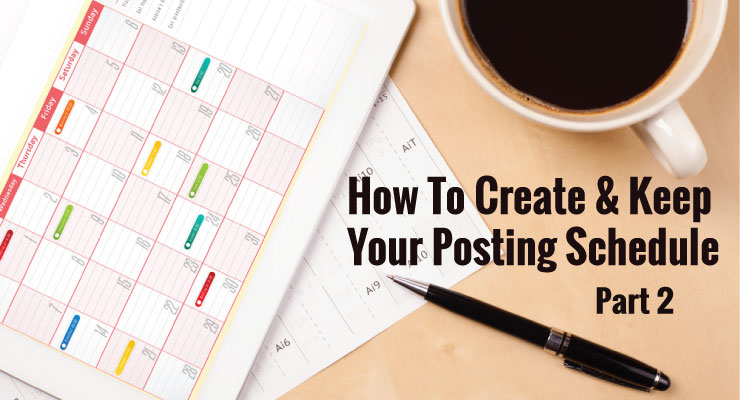 On Monday we discussed which days were best for posting.  We also looked at which posting schedule is right for you.  If you missed How to Create and Keep a Posting Schedule (Part 1), I highly recommend that you go back a read it before continuing (or at least read it after this one).  It will help you get caught up on the progress of this discussion.
Today, we're talking about Tools and Organization.  Once you've decided when you will post and how often, you'll need to organize and get started.  This is where we decide what you will write and get it on a schedule.  Since you know which days of the week and how many times per week you will post, it's time to lay it all out over the next 12 months and get to work.
The Tools
The first thing we'll need is a calendar.  Here are some recommendations:
WordPress Editorial Calendar Plugin
If you use WordPress for your blog (and I recommend that you do), you can use a awesome free plugin called WordPress Editorial Calendar.  I use this little wonder on every site that I own and it has saved me a ton of time and effort.  Wordpress Editorial Calendar allows you to Title, Schedule, and even Outline your posts from a calendar view, so you can see how they will fall throughout the coming months.  It also allows you to Reschedule, QuickEdit, and Delete posts without using the "All Posts" function in WordPress.  This is very handy when you have dozens of posts and multiple pages of post listings to search through.
Google Calendar
If you don't use WordPress or if you write your content, but send it to someone else to edit and post, you can use Google Calendar to schedule things.  Google Calendar is a free function available to anyone with a Google account.  If you don't have a Google account, just go to www.google.com and sign up for one.  Once you've signed up, you will have use of all of Google's apps including Gmail, Google Calendar, Google Drive, Google Docs, and more.  You'll also receive a YouTube account because Google owns YouTube and a Google+ account as well.
The handy thing about Google Calendar is that you can access it from any internet connection.  You can also easily import it into your smart phone, tablet, or desktop computer.  This useful little app is also fully sharable, embeddable, and customizable.
Evernote
Evernote is an app that you can get for just about any machine (phone, table, desktop, etc.).  It allows you to create documents, save notes, collect pictures and more.  But, the magic of Evernote is in its ability to help you collaborate.  You can create notebooks that can be shared with other contributors, editors, or anyone else.  This allows you to complete all of your collaboration before finally copying and pasting your post onto your blog.  Evernote is also handy for reminding yourself of deadlines and Blogger Holidays.
Microsoft OneNote
OneNote, basically works like Evernote and it is also available for any machine, but, because it is a Microsoft Product, suffers from the usual PC fussiness.  This means that you will be subjected to all of the attempts to get you to use Internet Explorer as your browser and Bing as your search engine along with all of the other efforts to assimilate you into the Microsoft universe.  If you're a PC user and used to using Microsoft tools, you may very well find OneNote helpful.  If you are a Mac person, this solution will likely drive you mad – stick with one of the others.
I have used all of these at one point in time or another.  All of them are potential solutions for scheduling your posting calendar. The best one is the one you will use.  The greatest tools in the world won't do anything for you, unless you're willing to use them regularly.
The Organization
The organization of this planning system is where the magic happens.  Remember when I told you about the Blogger Holidays (Monetization Day, Information Product Day, Mo Money Day, and Second Information Product Day)?  These special dates are where we begin to establish your posting schedule.  Here we go.
Set Your Launch Day
The first thing you should do is choose the date when you will launch your website into existence.  I recommend a Monday.  On this day, your site should be fully built and ready to meet the world.  You should have at least one month's worth of content back-dated and already loaded into your blog for people to read.  You should also have at least one month's worth of content pre-scheduled and already loaded into your blog, so that you are always working ahead of yourelf.  With this in mind, choose a day far enough out that you can safely have this stuff done.
WARNING Don't try to pull off some Ferris Bueller last minute save on Launch Day.  Not only will you likely screw it up, but you will be starting in the hole with no cushion of posts ahead of you.  The first time your schedule gets pre-empted by some element of real life, you'll let your readers down and then you will be hurting.
Mark The Other Blogger Holidays
Now that Launch Day is set, you can get the other holidays on the calendar.  Start by marking Monetization Day 3 months after Launch Day. Next mark Information Product Day 6 months from Launch Day.  Then mark Mo Money Day 9 months from Launch Day.  And, finally, mark Second Information Product Day on the 1 year anniversary of Launch Day.
NOTES: If your holidays land on days when you would not normally post, just nudge them to the closest regular post day.  If your holidays land when you are planning to take time off (Christmas, Spring Break, Vacation, etc.), move them up on your calendar.  It will be easier to hustle and get them handled before you go than after you return.
Outline Your Information Product
Consider the information product that you will be releasing on Information Product Day.  What is it about?  What is it called?  Most importantly, what do your readers want and need it to be?  If you plan it correctly, this product should make you some good money, and, after six months of writing your tail off with only 3 months of affiliate sales, you're going to need it.  So, it's time to decide the details is now.
Once you have the basics figured out, begin outlining your Information Product.  Use a mind map, flow chart, or whatever helps you to organize the pieces.  Start with the main sections and then break it down into smaller pieces like chapters or units.  Once you have it completely outlined, turn it sideways and space the chapters or units out on your posting calendar as individual articles.
 The goal is twofold. You're trying to make sure that there is logical flow to your posts over the next six months as well as get your Information Product written piece by piece.  The right planning will accomplish both of these objectives giving you a well-crafted blog and a well-organized Information Product.
Finish Scheduling The Year
You will likely find that, when you lay out your posts, you may not have enough to cover a full six months.  That's OK.  Odds are that there are some other things that fall within those months that you can write about.  Are there influential people in your field whose birthdays or accomplishments you should celebrate?  What schedule phase will you be in at New Year's, Valentine's Day, Easter, Memorial Day, Independence Day, Labor Day, Halloween, Thanksgiving, and Christmas?  Will any of these holidays (or any other ones) effect your posting?  What about sales events like Black Friday, Cyber Monday, and Christmas?  Do the changing seasons effect your subject matter?  Ask yourself, "What will my readers be doing when I publish this?"  "What will they want at this time?"  "What will they need at this time?"
Once your first six months are planned, rinse and repeat to get your second six months.  Consider when Mo Money Day will hit for you (nine months from Launch Day).  How will you celebrate it?  Physical Products?  Membership?  Both?  Schedule posts accordingly to give yourself momentum.  And then finish with Second Information Product Day on your one-year anniversary.  Release a second information product comprised of the posts from your second six months.  You can publish it as a separate resource or combine it with the first one to create an ultimate guide or offer it both ways for different prices.  Just make sure that it's something your readers want and need at the right time.
And that's how we plan our first year of blogging.  Oh sure, you'll make changes as you go and adjust it a hundred times, but it's a lot easier to adjust a plan that's on the calendar than it is to imagine it in thin air.  Tomorrow we'll talk about the best ways to remind yourself and how to avoid distractions to insure a successful posting schedule.
What tools have used to plan you posts before?  How have you organized your information?  Share a comment and let's talk about it.
Summary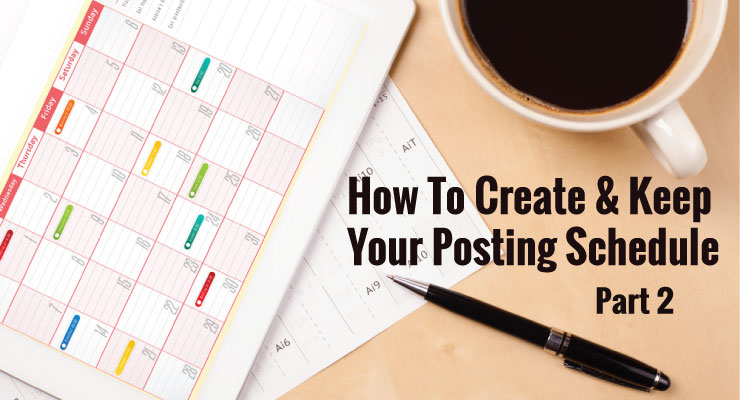 Article Name
How to Create & Keep a Posting Schedule (Part 2)
Description
A Posting Schedule involves Tools and Organization. We'll decide what you will write and schedule it out over the next 12 months and get to work.
Author