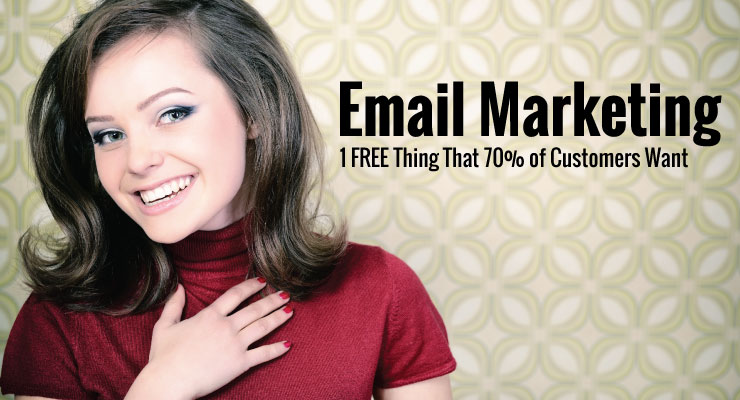 Last year iContact conducted their "Small and Mid-Size Businesses Email Marketing Survey" and 56% of the companies who participated said that they intended on increasing their email marketing efforts in the coming year.
In a study from conviceandconvert.com, 44% of the email recipients said that they had made at least one purchase based on a promotional email within the last year.
In a 2012 study by Blue Kangaroo, 7 out of 10 people said that they made use of a coupon or discount from a marketing email during the week prior to be being surveyed.
Still think that email marketing won't work for you?
The truth is that any company can make use of an email mailing list – and every day more of them are. What about your company? Do you fit into one of the following categories?
Huh? What?
If this is your company, you don't have an email list at all. You have no process for collecting email addresses from your customers and no email marketing plan. Odds are that you own the company and work in it, so you're too busy to think about marketing until there's no work coming in. You're constantly in a feast or famine situation and struggling to meet expenses.
You definitely win the "Hustle Your Buns" award for showing up every day and knocking it out. No one works harder at what you do than you, but a little front-loaded marketing combined with some automation would go a long way toward working smarter and lowering your stress.
Emails? Yeah we got those somewhere.
If this is your company, you at least realize the potential of collecting email addresses from your customers. The problem is that they are sitting in miscellaneous Excel files or some complicated customer relations software that costs you an arm and a leg, but doesn't get used to its potential. Or worse yet, all that valuable information is in someone's office on hand-written registration cards waiting for someone to be entered into a computer.
You get points for at least collecting addresses that could be a list. Unfortunately, while you're overworked sales staff is haphazardly trying to please you by solving the issue of the moment, the keys to your email marketing kingdom are wrapped in aging rubber bands and gathering dust.
We have a list, but it doesn't make us any money.
If this is your company, you have a list that you probably use for "Email Blasts" whenever you have a sale or special promotion. Chances are that a large percentage of the addresses aren't good anymore and need to be cleaned out, but doing that will reduce the size of the list and no one wants to be responsible for that.
Also, let's talk about "Blasting" emails. Blasting is not something you do to people you like. You blast the enemy. You blast the competition. You don't blast your customers. This is significant, because you need to see your customers as relationships that need to be nurtured and developed. If you see it as blasting, chances are that they will too, and your list will shrink all by itself.
A Different Class
If you don't fit into one of the categories above, you're probably in decent shape with your email marketing. Odds are that you have a list, that it's reasonably well maintained, and that you are using it for more than "blasting" your customers. You may even be using a service like Aweber or Constant Contact to manage your list and incorporating it into your blogging and social media efforts. That's great! So, let's talk about taking it to the next level.
Auto-Responders
Are you using auto-responder series? These things are absolutely gold. I've mentioned them before, but let's explore them again.
Think of all the ways you could use a prewritten series of email messages that get delivered in order over a predetermined period of time to each subscriber individually.
If you own a retirement community, you could create a series of emails that explain how to navigate the medicare and social security systems
If you own a car dealership, you could create a series of emails that teach people how to save for their next car purchase or maintain the one they have now.
If you work in a bank, you could create a series of emails that teach people how to get out of debt and stay that way, how to plan for their kids' college, or save for retirement.
If you're a plumber, you could create a series of emails that tech people how to maintain the plumbing in their homes, prepare for the change of seasons, or just tell funny stories about things that have happened to you on the job over the years.
If you own a hardware store, you could create a series of emails with instructions for common DIY projects that people can do to improve their homes.
These are just a handful of ideas that I typed out in less than 5 minutes. The possibilities are endless. You just have to stop a think a little bit about what you know and how to use it to provide value to your customers. I'll guarantee you that your competition probably isn't doing it.
Regular Publishing
Publishing regularly is the best way to build conversational rapport with your customers. It allows them to get to know you so that you become their "go to" person when they want or need something. It also demonstrates the depth of your knowledge and establishes you as someone who is willing to help.
Think about your favorite author, musician, artist, or subject guru. How much of their stuff have you read, watched, or listened to? Do you feel like you know or understand them in some way? Better yet, do you feel like they know and understand you somehow? That's the power of regular publishing. Now it's time to put that power to work for you.
Two-Way Communication
Two-Way communication is essential for any working relationship and email marketing is one of the best ways I know to establish it with your customers. What if your customers would simply tell you what they want, so that you could get it and sell it to them? That's not as far-fetched as it may seem.
Email marketing allows you to survey your customers to find out what they want and need. You can provide content and receive their reaction easily using a medium that has become an essential part of nearly all our lives. It gives you hard data and measurable results almost immediately. And, it offers all of this in a convenient, distraction-free environment on your customers' most personal devices. No other marketing tool gives you that. And did I mention that it's FREE?
I have enjoyed our discussions this week about mailing lists. Hopefully, your head is spinning with new ideas about how to use them.
Do you have a mailing list? If so, how do you use it? Share a comment and let's talk about it.
[/et_pb_text][/et_pb_column][/et_pb_row][/et_pb_section]
Summary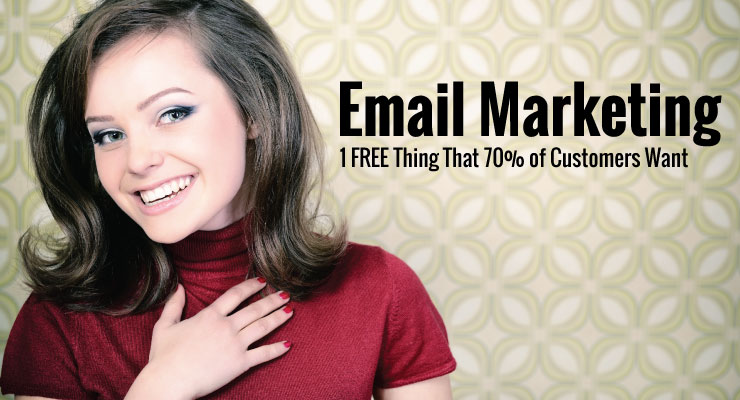 Article Name
Email Marketing | 1 FREE thing that 70% of customers want.
Description
What if your customers would simply tell you what they want, so that you could get it and sell it to them? Email Marketing is how you get them to do it.
Author