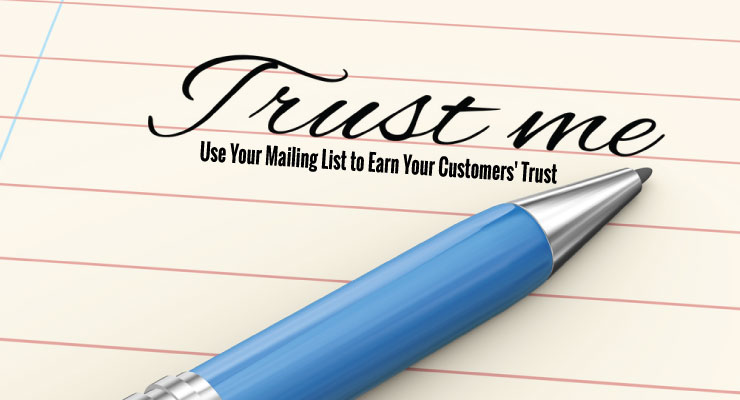 Not everyone on your mailing list trusts you. Some of them have subscribed just to try you out. Some of them may have purchased something small out of convenience and now they're looking for reasons to trust you with bigger buys.
Some joined from an article that you published and they're waiting to see if you're a one-hit-wonder. Still others have heard about you from someone else and they are trying you on to see if you're a fit for them.
The Trust Formula
There are three stages that person experiences as he or she builds trust in someone else.  I mentioned these briefly on Monday.  They are Familiarity, Affinity, and Consistency.  I remember this process by using the word FACT and turning it into an equation.
Familiarity + Affinity + Consistency = Trust
Familiarity
Familiarity is when something or someone moves from unknown to known.  This is a process of the head.  It's the way we teach children not to talk to strangers.  Someone that you haven't met and don't know is a stranger.  Familiarity begins with a meeting and an introduction.
In order to meet people, you have to position yourself for the opportunity.  You have to be where those people are.  In digital marketing, that means publishing top quality stuff on sites where the people you want to meet will find it.  This creates increases the likelihood of that chance meeting with the right person.
Once you've met, it's time to introduce yourself.  You accomplish this by making information about you easy to find.  Make sure that there is always a link to your site in any social media post and that your bio information in all of your social media profiles is thorough and complete. Also, make sure that the "About Us" page on your site accomplishes a sufficient introduction.
Affinity
After you've been introduced, it's time to build some affinity.  This is a process of the heart.  As we've discussed in previous posts, the best way to do this is to give.  Giving shows that you understand the two-way nature of your relationship and that you fully intend to provide real value in each interaction.
One of my favorite ways to give is to simply offer lessons that I've learned in hopes of saving my customers time and resources.  Anytime one beggar tells another beggar where the bread is, it's helpful.
The second way I like to give is to listen and respond.  When people leave comments on my social media and blog posts, I try to go a step farther than, "Thank You."  I look for ways to give them more of what they appreciated about the article that drew their comment.  Sometimes I do this by pointing them to additional content on my site that is compatible with their needs.  Other times, I take the opportunity to point them to an outside resource on someone else's site.  The goal is to go the extra mile using whatever resource does the job well.
Consistency
Maybe it's a sad commentary on humanity, but whenever someone gives to us, we tend to immediately look for the catch.  I know I do.  I find myself thinking about how great it was to receive helpful stuff and then immediately doubting that it will last.
This is where consistency is essential.  If familiarity getting the ball rolling and affinity draws them in, consistency is the key to compelling your customers to action.  Consistency is a process of the gut.  It's what carries our new relationship over the threshold of cynicism to the wonderland of transaction.
The cool thing about consistency is that you don't need to do anything new to accomplish it.  You just have to keep doing what got you here in the first place.  By proving that you can be relied upon to deliver value time after time, you lay to rest the fears of abandonment that plague us all in the early stages of our relationships.
That's the key.  Never give up.  If you fall behind, apologize and get back at it.  If life gets complicated and causes you to disappear from your people for a time, tell them.  They'll understand, because it happens to them too.  They'll also appreciate your openness.  Then get started again with a doubled effort and a better plan.
Ways to Use Your Mailing List
Here are some specific ways to use your mailing list to accomplish these goals.
Survey Them: You can use your mailing list to survey your customers about what they want and need.  We know what we think they need, but that gets easily confused with what we want them to need, because we know where the profit margin is.  By surveying them you'll get a realistic idea of how to deliver products and services that they are immediately willing to buy.
Spoil Them: You can use your mailing list to spoil your best customers.  After all, these are people who cared enough to actually subscribe to something.  Run special sales, offer exclusive contests, give them special pricing, and publish bonus information.  By treating them just a little better than your average unsubscribed customer, you're communicating that they are valuable and precious.
Celebrate Them: You can use your mailing list to celebrate the successful accomplishments of your subscribers.  Regularly brag on the progress that your subscribers are making.  When someone wins by using your product, service, or teaching write a message and tell your list about it. You'll gather valuable social proof for your business, encourage a special customer, and give the rest of your community a chance to show their support as well.
As you look at the way your company makes use of its mailing list, I encourage you to try some of these suggestions.  You'll soon discover that your mailing list can be one of the most powerful tools in your marketing toolbox.
How do you use your mailing list to build Familiarity, Affinity, and Consistency?  Share a comment and let's talk about it.
Summary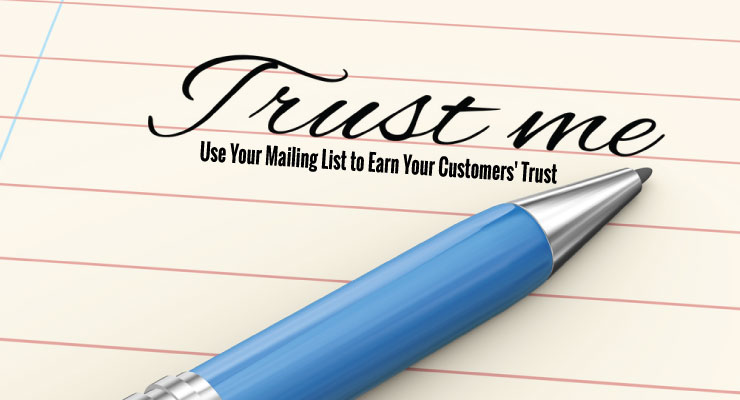 Article Name
Trust Me | Use Your Mailing List to Earn Your Customers' Trust
Description
Regardless of where your subscribers came from, they want you to gain greater amounts of their trust. And your mailing list is the perfect tool for that.
Author