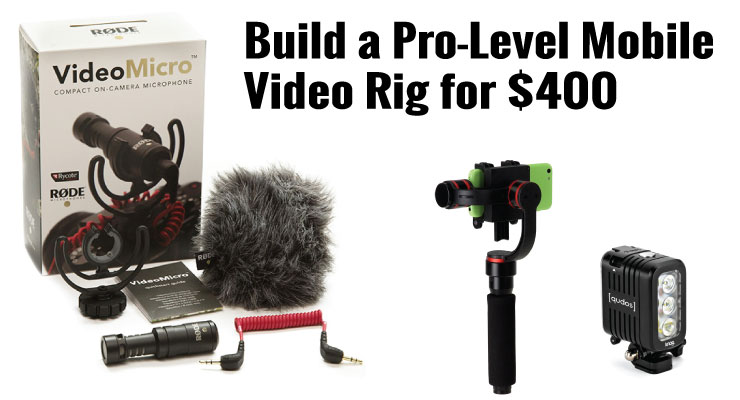 Two Creative Design has moved into regular video creation!  We have spent the last couple of years building a professional media creation studio and we plan to become YouTube regulars.  While we have no intention of giving Casey Neistat any real competition, we will be creating regular content for ourselves and our clients.
I'll be detailing all of our gear in future posts, but today I want to feature some items from our mobile rig.  I've included Amazon Associates links to all of these products below in case you would like to pick them up for yourself.
When we shoot mobile video, we use a variety of cameras.  We shoot with a GoPro Hero 3+ Black, and our iPhones, and, believe it or not, we get great results.  The biggest hurtles to overcome when shooting mobile video are light and sound.  Most phones, action cams, and point & shoot cameras will yield perfectly acceptable results is they have enough light and dedicated audio.
Enough light is usually free is it's a nice day outside.  But on those occasions when a little extra illumination is necessary, the Knog [qudos] ACTION Video Light for GoPro, Black
 will definitely get the job done.  Whether it's early morning, dusk, or heavy clouds, this little light will usually give you all the extra boost you need to get that important shot.
Dedicated audio is a must when shooting any video, but especially mobile stuff.  On location you have to contend with planes, trains, automobiles, wind, crowd noise, and dozens of other distractions.  Being able to place a quality microphone close to your speaker is often the critical difference between usable and unusable footage.  That's why we rely on the Rode VideoMicro Compact On-Camera Microphone with Rycote Lyre Shock Mount
.  It's both powerful and inexpensive.
The most expensive item in our mobile rig is the Fotodiox Freeflight Moto 3-Axis Handheld Gimbal Stabilizer for GoPro HERO, Smartphone & iPhone – Handheld Powered Video Stabilizer System and Stealthy Camera Support Mount – Red
.  Having the ability to compensate for your body movement will instantly take your footage from amateur to pro.  Sure, image stabilization isn't necessary if you always use a tripod, but we're talking about mobile here – shots on the go, pans, and the smooth buttery movement that says, "Yeah, this guy knows what he's doing."
Ok, so that's just a little about our mobile video rig.  If you haven't given video a try in your marketing, you may want to pick up a few of these things and shoot a little for yourself.  It's a powerful medium and it just may be what sets you apart from your competition.
P.S.  You can check out our full Amazon Store by Clicking Here.  We're always adding new gear, so check back often.